Breezy Knees Garden Centre
YHOA Sprint Champs, YUL and Pre-O (BriTOL)
3 events in one day!
A Morning Sprint event (YHOA sprint championships) followed by a Lunchtime PreO Sprint (part of the BriTOL league). In the afternoon there will be a further sprint event (The times in this last event will be added to the times in the Sprint Champs and those results will then count in the urban league).
There are no roads to cross so no restrictions on juniors.
If you are new to orienteering then have a look at our blog post on what a sprint event is and what to expect.
Entries are now closed. Start times are available on the website or on Fabian.
Prize giving will be held shortly after the second sprint event for the YHOA sprint champs.
You may wear shorts but be aware there are a few areas of nettles/long grasss/brashings so you might be more comfortable with
leg covering.
There is only one small embankment but of course even flat grass may be slippery when wet.
There are a number of stiles that have been specially constructed for this event and a couple of ladders to assist getting over gates if you require them. These may be slippery when wet.
In order the use as much of this fabulous venue as possible there is quite a small area to gather between events and the start, download, toilets and car parking are all very close together. Therefore please only proceed to your start when you are ready to start.
The garden centre café will not be open and there is no where nearby to buy lunch – therefore you will have to bring your own refreshments. The toilets at the cafe will be open for use. There is also a portaloo at the entrance to the car park.
Pre O final details
Final details for all those taking part in the PreO event at lunchtime can be found here
If you are taking part in the PreO please do not take your sprint map with you to the event.
Competitors may fill in a form detailing any relevant medical condition and to leave the form with the Organiser before they go to the Start if they wish
Fixture Date: - 07/11/2021
Breezy Knees Gardens, Warthill, York YO19 5XS
We have dedicated use of the Gardens for this event so parking will be in the Breezy Knees car park. This will not be marshalled. The first bay will be taped off as a competitor area, parking will be in the subsequent bays. There will be limited or no O-signs to get to Breezy Knees as the Garden centre is well signposted.
Over 20 acres of Gardens. Described by Monty Don as "a beautiful modern garden created on the grandest possible scale", Breezy Knees features award winning gardens.
About half of the area consists of formal gardens with flower beds, lawns, woodland, lakes, paths, hedges and many fences and gates. Please respect the gardens – they are stunningly beautiful from May to September! Even if the beds look dead in autumn, they are not and must not be crossed.
You may cross lawns, meadows, woodland but NOT fences or flower beds (olive green).
Dark purple lines have been used to show red/white-taped barriers which must not be crossed. There is one optional crossing point (a ladder stile, shown in purple) and 3 other low stiles where gates in fences have to remain closed. These have been mapped as gaps as have other gates which may be opened/left open.
There is also an area of rough open with patches of natural woodland. This is a bit rougher than is common in sprint courses (but not really rough!).
Hedges shown as green lines must not be crossed except where a gap has been mapped; those shown as walk forest with veg boundary dots alongside may be crossed (perhaps at a crawl!).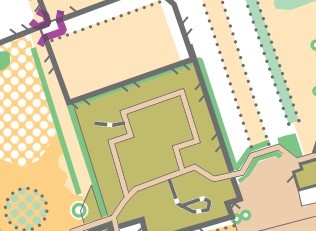 1:3000 (a brand new map in a brand new venue) by Peter Roberts
No EOD, all entries online by Fabian. When you enter choose your start block for the first event. We will use the same start order for the afternoon event and start times are available on the website
1. Morning event YHOA sprint championships.
Start block 10am to 11.15am; courses close 12 noon.
2. Lunch event Trail O League.
Start block 12.15pm to 12.45pm; courses close 1.15pm.
3. Afternoon event YHOA urban league (once added to the time from the sprint course…)
Start block 1.15pm to 2.30pm; courses close 3.15pm.
Start times are available on the website or on Fabian. Call up will be at -4mins. The start area for the both events will be quite congested therefore please only come for your start time.
Prize giving for YHOA champs approx. 2:45pm.
Distances to the starts and finishes
Event1: 5 minutes to start, the finish is next to the car park
Event 2: 10 mins to start and finish
Event 3: Start and finish adjacent to the car park
Live results will be available during the day at the following link (will be enabled after the first finisher)
Please comply with Covid procedures for distancing and sanitisation as requested. Please obey instructions of Start marshals. 
Electronic chip hire £1 Senior & 50p Junior (note SIAC dibbers will not be available to hire)
£10 for events 1 and 3 (the two sprint events). £5 for the PreO. £2 reduction for entering both
Juniors and students (20 and under)
£5 for events 1 and 3 (the two sprint events). £2.5 for the PreO. £2 reduction for entering both
There are ten courses for the two sprint events and one for the Trail O. Juniors may run up to the open classes if they wish. Older competitors may also "run up" competitively of course though there will be less difference in course lengths than usual. Expect to run 25% further than these straight line distances.).
| Course | Class |
| --- | --- |
| 1 | Men's Open |
| 2 | Women's open, M veteran (40+) |
| 3 | W veteran (40+) |
| 4 | M supervet (55+) |
| 5 | W supervet (55+) |
| 6 | M ultravet (65+) |
| 7 | W ultravet (65+) |
| 8 | M hypervet (75+), W hypervet (75+) |
| 9 | Men junior (16-), Women junior (16-) |
| 10 | Men young junior (12-), Women young junior (12-) (orange standard) |
| PreO Sprint | 4 classes: Senior Open, Junior Open, Senior physically challenged, Junior physically challenged |
SI electronic punching, SIAC enabled.
Download will be managed in a socially distant manner. If you have any queries or issues about your run subsequent to downloading, please notify download marshal who will either fix any computing problem or contact an event official if necessary on your behalf.
Although a thorough risk assessment has been conducted by the organiser, orienteering is an adventure sport and you are taking part at your own risk.
Results will be posted on the Eborienteers website as well as here, once the event has occurred.  Please allow 24 hours.
James Meredith (james.a.meredith@gmail.com 07824605504)
Steve Whitehead and Peter Roberts
Please follow the latest Government Covid-19 advice.
Some of the data you provide at registration (name, club and age class) will be used to publish results on our website. All other data required for insurance purposes will be kept for 5 years.
If you are not yet a member of an orienteering club affiliated to British Orienteering, we encourage you to join, and benefit from the membership advantages from British Orienteering and Eborienteers. Please ask any of our club officials for more information on how to join.
We have a policy on the taking of photographs at events, based on national guidance. This provides a sensible balance between the benefits and risks associated with the taking and use of images. If you are unsure about acceptable practice, please speak to the event organiser.